Jeff Waggoner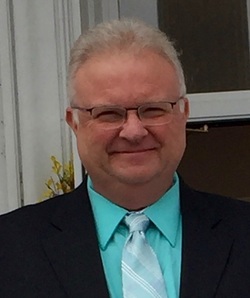 I was born in Ohio and grew up there, in a town on Lake Erie called Port Clinton. (It's currently the "Walleye Capital of the World.") I was one of those "music kids" they had to throw out of the band room at night - I played in all the band stuff, played cello in orchestra, and played bass for the pop vocal group the school had. I also played in a rock band that tried to sound like Chicago and Blood, Sweat, and Tears - it was the early 70s, folks! Since it was a small town, playing bass opened all kinds of doors for me - I got to play actual paying small group gigs in the area long before I really knew what I was doing!
I was supposed to be an engineer or a scientist or something, but I realized during my senior year of high school that I couldn't imagine my life without being intensely involved in music. Not just an hour a day or so, or playing on weekends.
So I went to the University of Toledo, my dad's alma mater (he's a civil engineer), figuring if this music thing didn't work out I could switch to engineering.
Well, that never happened. I found that working in a relatively small music department in a university of 17,000+ was perfect for me. I got to write for the jazz ensemble and for the marching band, and wrote drill for the marching band, started the color guard there - 7 foot poles and 3X5 foot nylon flags, back in the day!
I have to really thank Jim Mason, who directed the jazz ensemble,
Jamie Hafner
, who conducted the concert band and marching band, and
David Jex
, who taught me trumpet, arranging and composing, for really helping me get my start!
So when I graduated I had a pretty good feel for all the usual facets of band. Did I know everything? Of course not! I made some dumb mistakes like everybody does, and hopefully learned from them. After two years in a semi-rural consolidated school environment, I was selected for a graduate assistantship with the University Bands at Bowling Green State University under Mark Kelly.
While at BGSU I taught color guard, which was only possible because the girls in the guard were really patient and helpful, co-directed the third concert band, and ran the Hockey Pep Band. Yep, a full-time pep band for hockey! Hockey was a big deal at BG in those days - in fact, several BGSU alumni were members of the famed 1980 US Olympic Hockey Team, the "Miracle of Lake Placid" team!
I continued to write for my groups, including that hockey pep band, and took some arranging lessons from guitarist Fred Hamilton, who was teaching at BGSU at the time. (He's now at the University of North Texas.)
I taught in one more rural school district, then a suburban one that was in a blue-collar community, then moved out of Ohio and into Illinois. For the next 26 years I taught at Hinsdale Central High School in Hinsdale, Illinois. It's a big suburban high school in the west suburbs of Chicago. Depending on how things worked and were staffed, at various times I was Director of Bands, Music Department Chair, and Director of Jazz Studies...often two of these at a time!
(I also taught electronic music, back when it was hard to do and took LOTS of cables, AP Music Theory, and, for a few years, even freshman girls' chorus!)
I had some really great groups at Central and I had the opportunity to bring in some great composers to work with the kids and write some pieces for the bands, including Denis DiBlasio, Steve Wiest, Jeff Jarvis, Frank Mantooth, Doug Beach, Stephen Melillo, Reber Clark, and Brian Torff.
I learned a lot from these guys! I also continued to write for my groups and those of a couple of friends of mine.
About fifteen years ago I started doing some adjudicating, once I felt I knew enough to be useful to others! I'm a member of the Central States Judges Association and I've judged marching bands and drum corps in Illinois, Indiana, Ohio,
Iowa, Wisconsin, Minnesota, Louisiana, Oklahoma, Missouri, Nebraska, Florida, Tennessee, Kentucky, West Virginia, Pennsylvania, and Mississippi.
In June of 2011 I retired from teaching. I've been preparing my music in Sibelius and then creating pdf versions for publication. They are "real life" kinds of tunes - things that will work for your band. I know because they worked for mine!
My wife and I have two great kids who played in my bands in high school, where we had a wonderful time, and now we have two granddaughters who are simply the best ever! If I don't get any writing done it's because the granddaughters are too good a distraction!
Go to online store to order my music.
---